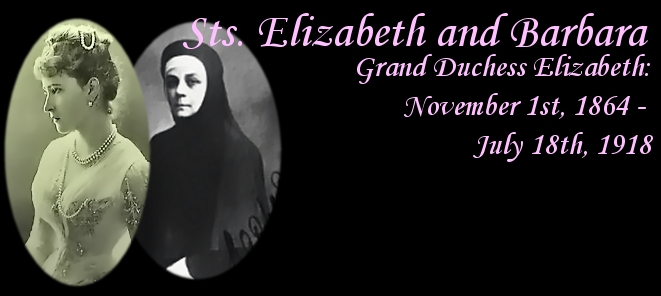 "Happiness does not consist of living in a palace or enjoying a large fortune. True happiness is something that neither men nor women nor events can take from you."- Grand Duchess Elizabeth
This web site is in loving remembrance and honor of the Birthday of the New Martyr of Russia St. Elizabeth, Grand Duchess and Abbess, pray for us all before the Throne of Gracious Loving God for us all! We also beg the prayers of St. Barbara your companion in Holy Martyrdom, and all the Holy Royal Martyrs and New Martyrs of Russia to humbly pray for us at this hour in honor of your loving Birthday on earth. Amen!


Both killed on July 18, 1918, these two dedicated women to the Christian faith thus became martyrs. Elizabeth was the elder sister of Empress Alexandra, and she was responsible for arranging the marrige between her sister and the future Tsar. After witnessing the murder of her husband, Grand Duke Sergei, she began to live humbly, and later took vows and became a nun. She was the abbess of Saints Martha and Mary Convent, and held many projects to help the less fortunate. At the end of the month of May, the Grand Duchess, Barbara, and members of her entourage (including several Grand Dukes) were taken to Alapaevsk near Ekaterinburg, and on July 18, they were thrown down a mine shaft where they died of expousure and their wounds. However, the Grand Duchess found the strength to bandage one of the Grand Duke's wounds, and died after many hours of singing hymns and praying. This truly noble woman died only one day after the sister and family that she loved so much did. However, her Christian spirit has been recognized by the Church, as was that of Sister Barbara, and they were cannonized by the Russian Orthodox Church. In July of 1998, statues of the New Martyrs of the Christian Faith were unveiled on Westminster Abbey, and Grand Duchess Elizabeth was among those honored. Please see the official Westminster Abbey site for further information and a photograph of the statue that was carved to honor her memory. God bless them both!